As many of you know, October is Breast Cancer Awareness month. On tonight's Ustream show (7pm Pacific Time) we are kicking of 2010 Pink Mini's. Anyone who wishes to participate can make a mini album or set of cards to be auctioned in a silent auction. ALL proceeds from the action are paid directly to the Susan G. Komen Foundation through their Passionately Pink for the Cure program.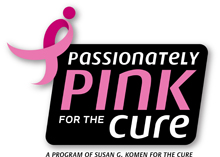 I will have all the details on tonight's show while I work on one of the mini's I will have available for the auction.. If you don't want to make a mini album or cards, you can still participate by bidding on the the minis and cards or by making a donation.
CLICK HERE
to go directly to my Ustream channel
It's hard to find someone who hasn't had their life somehow touched by this disease. Let's use or talent and passion for our craft to work towards find a cure!!
See you tonight!! I'll be wearing pink!
Laura
I am finishing the Exploding Envelope pattern and want to do a final check of dimensions etc. Therefore....I will start shipping out the pattern after my son's Hockey game in the morning. It is going to take a while due to the high volume ordered. Thanks so much for our support and patience!!